"I HAVE THE HOPE OF FOSTERING A GOOD HEART AND ATTITUDE AND DO THE BEST FOR MY LIFE/FAMILY"
"I HAVE THE HOPE OF FOSTERING A GOOD HEART AND ATTITUDE AND DO THE BEST FOR MY LIFE/FAMILY"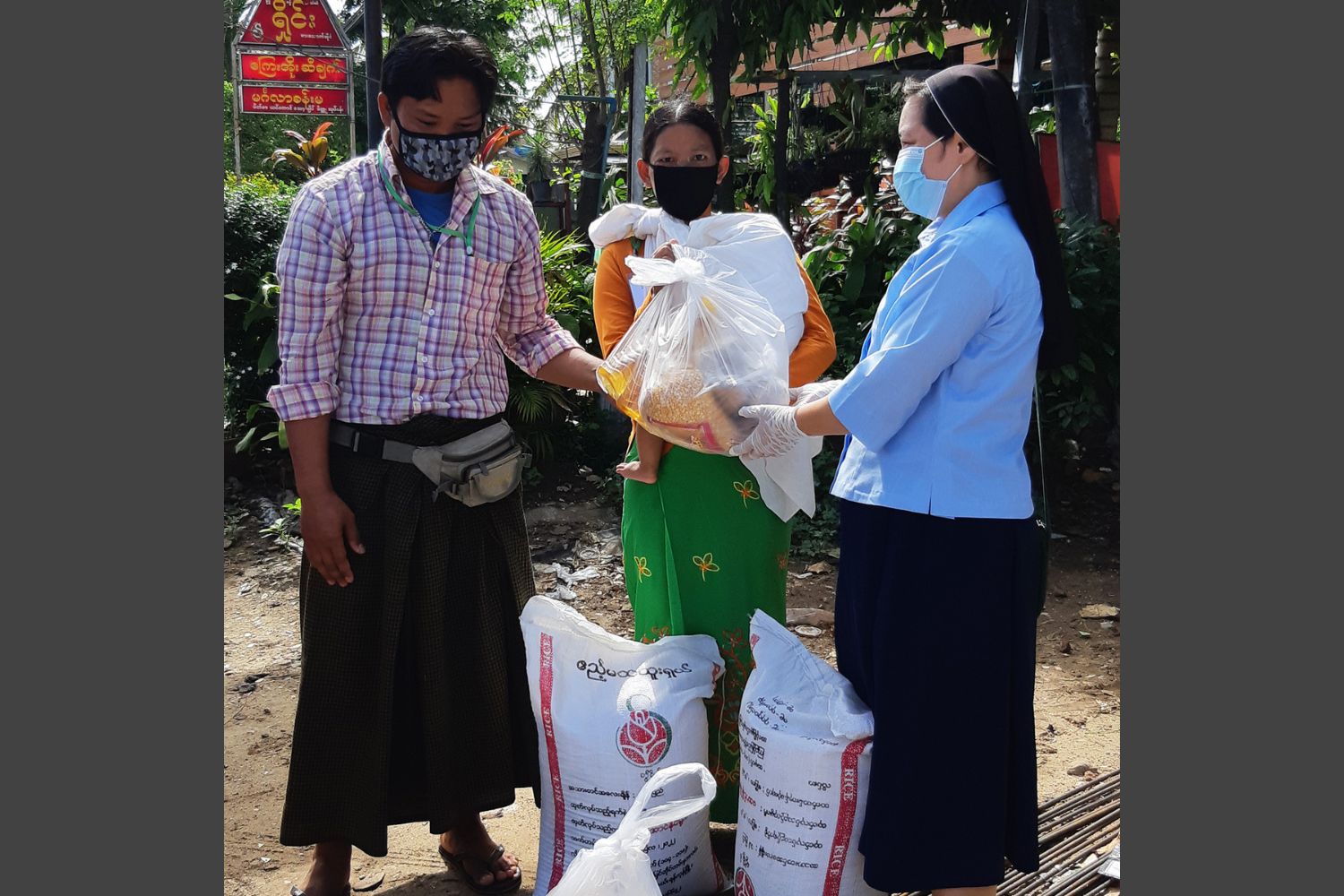 Mr Kyaw with a Sister from Good Shepherd Myanmar Foundation
Mr Kyaw works as a wielder, and sometimes rides a motorbikes for a living. He has 2 children, a daughter in grade 2, and a son who is just over a 1 year old. His wife takes care of the children, and the family lives together in a squatter area.
Since the COVID-19 outbreak, he is unable to go out and work as his employees have ceased work. Due to the loss of income, his family has been living day to day on their little savings. They have been facing financial hardships since he has been unable to work for about 2 months now. The children also cannot have proper meals anymore. They have been staying home since March as the government imposed lockdowns. He laments; "We cannot go physically where our minds are. As time passes, we get depressed." Like everyone else around him, and all around the world, he says that he is afraid and does not feel secure anymore. He is worried that he and family members will get infected too.
He does not know what to do in this situation. Negative thoughts such as "this must be a punishment from God" often come to his mind, and he struggles with many other questions. On a positive note, he highlights some good things that have happened; "As a result, we come to pray to God and say the rosary as a family. We come to have a habit of praying. In this situation, I come to feel that my family is more united and we have developed a warm relationship among us. In the past, we never prayed as a family and never gave time to pray as a family. Now, I feel the joy of family life."
He expressed that he is very grateful for the food supplies from CHARIS his family and the neighbours received through the Good Shepherd Sisters. He said that the support has given them much consolation, and that they will be able to eat normal amount of meals. He also expressed the concerns he has for others who are in need of support like his family, saying that he also wants others to receive this kind of support as he did and he is really grateful.
He says that as the whole world is affected by this situation, everybody including himself is experiencing unexpected hardships in life. He expressed his opinion on how one should take care of oneself in a situation like this. He says; "As for myself, it is important not to get disappointed or depressed. I think it is important not to get discouraged or disheartened. It is also important to think of how best to take care of oneself, and live happily with whatever comes. It will just be worse if I get depressed and do nothing. I look forward to the time when this whole thing will come to pass. I have the hope of fostering a good heart and attitude and do the best for my life/family."
Mr Kyaw and his family are beneficiaries of the Good Shepherd Myanmar Foundation. CHARIS has been supporting them in distributing food supplies for 535 families during this time of need.