MRS HA AND HER FAMILY RECEIVE FOOD SUPPLIES FROM THE DAUGHTERS OF MARY HELP OF CHRISTIANS
MRS HA AND HER FAMILY RECEIVE FOOD SUPPLIES FROM THE DAUGHTERS OF MARY HELP OF CHRISTIANS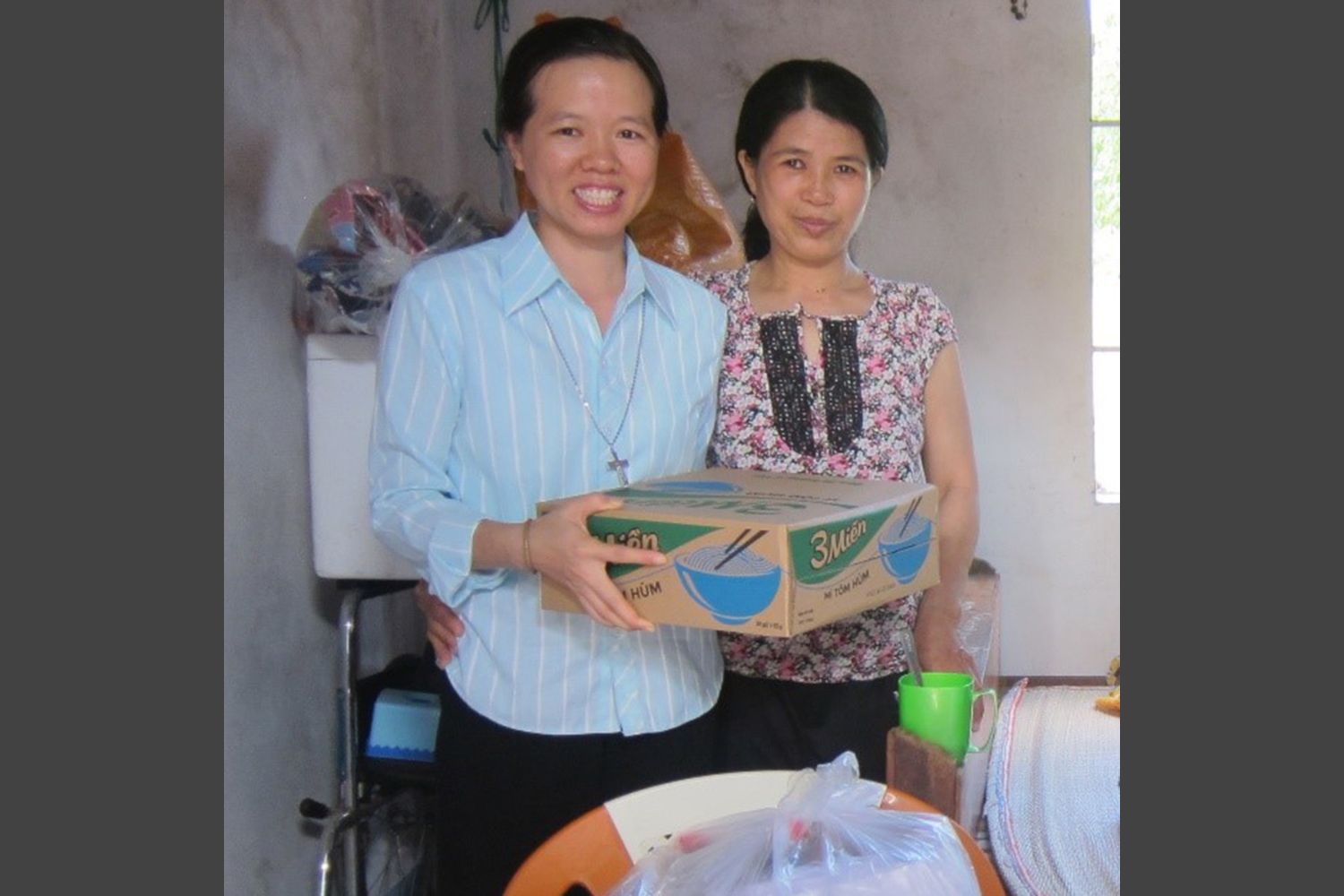 Sr Maria with Mrs Ha
Mrs Ha was married at the age of 20, and had 2 children. When her youngest child was less than 2 years old, her husband died of a serious illness. She then brought them with her to live in her younger brother's house. Her son, who is now 26 years old, suffered from cerebral haemorrhage, and had epilepsy since his childhood. He is now paralyzed, and unable to walk or to care for himself.
Her daughter is now 11 years old, and is studying in 6th grade. Before COVID-19 struck, she washed dishes daily for a nearby restaurant from 7-11am, and 6-10pm for a small monthly wage of 3 million VND (SGD 179) to cover daily activities and her daughter's school fees.
The lockdowns during the pandemic have greatly affected businesses, leaving Mrs Ha without work. She has to go to the pagoda to ask for charity meals day by day. Her little girl said in tears: "Mom, although we're poor, we still have something to eat. There are many people who have nothing to eat". Her boy has seizures almost every night, leaving her tired and exhausted. Currently, she is unable to continue work due to her spine-related problems.
Depressed and tired, she had lost hope and wanted to escape from life. When she had such thoughts, she wandered around the streets and saw scenes that are worse than hers. She regained energy through reminding herself that "I have to overcome my destiny to continue living", while thinking of her children.
Upon receiving love and interest from the Sisters during this period, she thanked them from the bottom of her heart, saying "I thank you, dear Sisters, for always encouraging, comforting, sharing and inspiring me. I thank the benefactors because of their support, though I do not know them. I hope that many people in difficult circumstances will also receive the help and care of benefactors."
Mrs Ha was from Ha Tinh, Vietnam, and now lives in Phan Rang, Ninh Thuan province. She and her family are beneficiaries of the Daughters of Mary Help of Christians in Vietnam. CHARIS has been supporting them in distributing food supplies for 800 families during this time of need.