SUPPORTED WITH MEDICAL AND FOOD AID FROM THE FATIMA PALLIATIVE CARE CENTRE IN INDIA
SUPPORTED WITH MEDICAL AND FOOD AID FROM THE FATIMA PALLIATIVE CARE CENTRE IN INDIA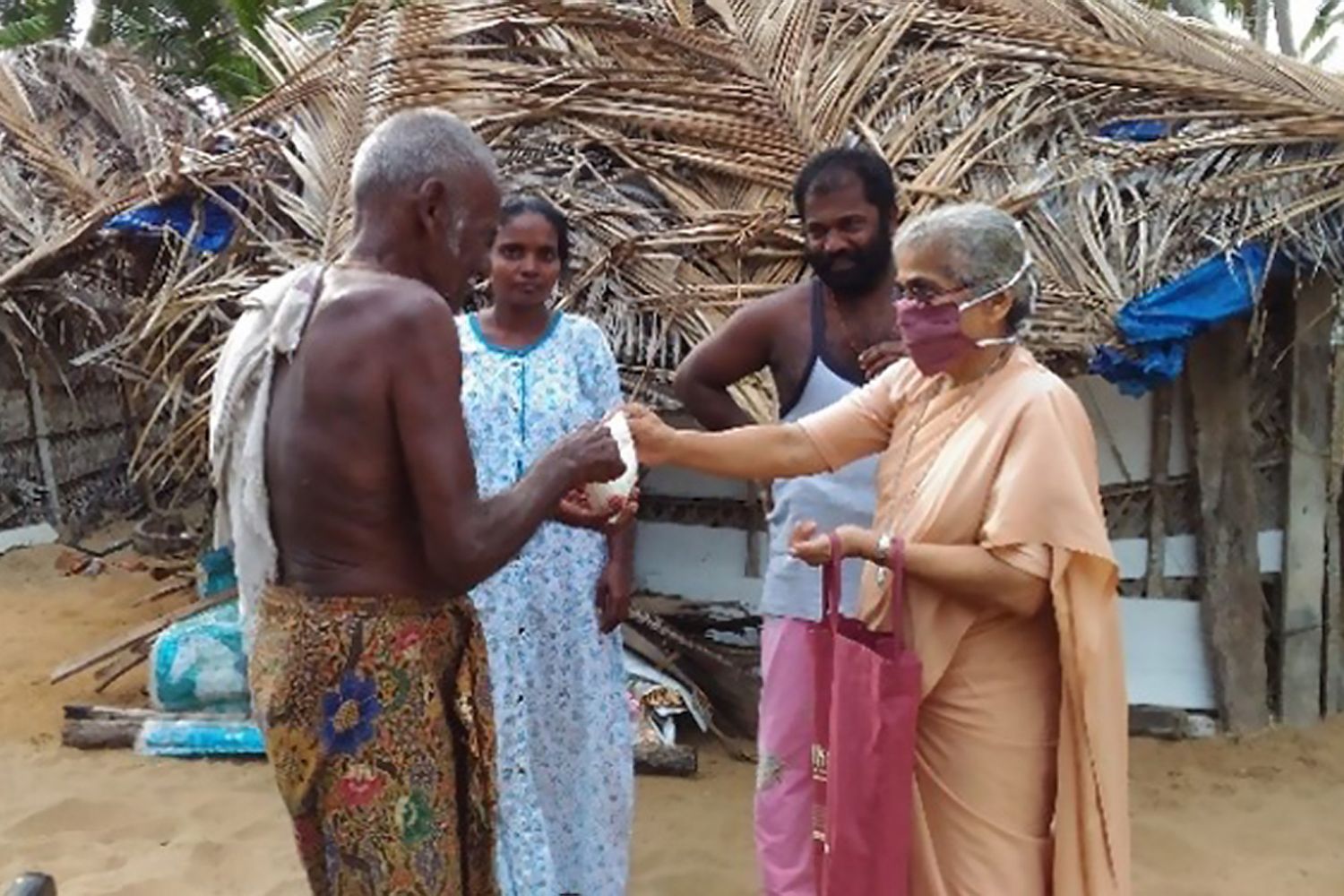 Sr Rosemary from FPCC during her service to Helen and family
Helen (33 years old) resides in a hut along the seashore on unclaimed land, with  her husband, Ouseph (38 years old), their son, Midhun (9 years old), and Ouseph's father, Benjamin (88 years old). Benjamin was the sole breadwinner until 5 years ago, working to excavate pits in the church cemetery for burial.
Ouseph is diagnosed with epilepsy, and cerebrovascular accident (CVA); he was paralyzed on one side for a period of time. Luckily, he was able to recover and is now able to walk and care for himself. He requires regular medical consultations for his ailment, and is on daily medication which costs about 4000 Rupees (SGD 74) per month.
Due to the family situation, Helen has to take on the responsibilities of taking care of the family. She cooks for the family early morning and goes out for coolie work. She comes back home late in the evening or into the early night hours. Though she is working hard, she is unable to raise enough money to meet the daily needs of her family, including her son's education, and most importantly, for a safe house. She needs to build a house which is safe and secure; her thatched house on unclaimed land is near the sea, and can succumb to natural calamities anytime. Every time a storm or rough sea occurs they move out of their thatched house and get shelter in the nearby school or community hall in church premises. Helen tries to keep her son in her relative's house for fear of her house being taken away by the sea.
Due to the restrictions from COVID-19, Helen lost her job, and found it extremely hard to even provide sufficient food for the family, let alone other needs like electricity bills, medicine purchase, household provisions, etc.
The Canossian sisters were able to reach out to this family. They were given dry food weekly, milk for Benjamin daily, as well as regular medication supply for Ouseph through Fatima Palliative Care Centre, India. Helen's stress to provide for her family has been lightened; in her words: "God sent you to see my struggle and rescue me from this desperate situation."
Helen and her family are beneficiaries of the Fatima Palliative Care Centre in India. CHARIS has been supporting them in providing medical aid, and food supplies for 425 families during this time of need.